Every Page in Vidigami has its own set of Permissions, which determines who can View, Contribute to, or Edit that page.
Permissions can be set for an individual user or a Group.
Vidigami Administrators have access to all Pages, regardless of the Permissions that are set on any Page.

To add/edit Permissions on a Page:
Go to your Explore area of Vidigami and click on a Page. Click on the person icon:

Type in the name of a Group or Individual. Change the Permission in the drop-down to View, Contribute, or Edit. Click Share: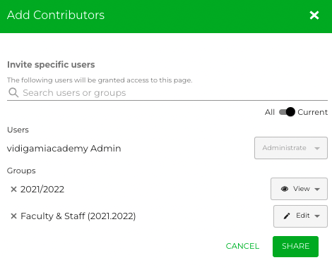 Your year Group (e.g. 2021/2022) will have all of your current Vidigami members. You can add this Group if you want everyone to access the Page.

Permission Levels:
VIEW - users in the group are able to View any photos on the Page or in Albums on that Page.
CONTRIBUTE - users in the group be able to View and Contribute media to the Page and/or Albums on that Page.
EDIT - users are allowed to View, Contribute, and Create albums on the Page.