You see learning every day inside and outside the classroom. When you add your photos and videos to Vidigami, you're visually documenting every student's life and work, and helping to engage families in the school experience.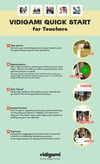 Download the "Quickstart for Teachers" Infographic (PDF)

Vidigami is your digital media library, organized to reflect the structure and programs at your school with Categories and Pages. If you head up a program or a class at your school, you can be assigned your own Page, where you can post media directly, as well as create Albums to organize media into special events. (For example, the Lacrosse team may want to create an Album for every game during a season.) Albums help everyone store and organize content so that it can be more easily found.
Categories, Groups and Pages are typically created by your School Admin, who is also responsible for assigning permissions and access levels for Vidigami users.
Collections are "working folders" where you can curate sets of photos for special projects, such as yearbooks, presentations, slideshows, marketing and more.

Get the most out of Vidigami - use every opportunity to do the following:
When you take photos, share them! Once photos are securely uploaded, you may choose to remove them from your camera roll.
When you see students, parents and staff you know in a photo, tag them! These photos are immediately added to their personal collection – year over year.
When you need a photo, just search for it!
Want to transform your Powerpoint presentations and Word newsletters? Use the Vidigami Photo Selector to easily find and add photos directly from your Vidigami library.
Want to make yearbook publishing a breeze? See how Vidigami flows content directly into CreatorStudio.
Get more in-depth training for teachers via the video available here.