Vidigami is an invitation-only media management and sharing platform. Each user must be invited to join a school's Vidigami before they can view and / or contribute media.
Activating Your Account – You will receive a personalized email similar to this one:
To activate your account, click on the blue button.
You will be prompted to type in the email you want to use for login and create a password. OR you can opt to sign in with your Google or Microsoft credentials.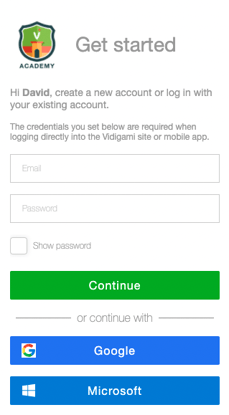 Once you create your account, you will be logged into Vidigami. Use your login credentials on your computer as well as your mobile devices. On a web browser go to app.vidigami.com to login.